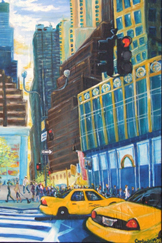 Byng Arts
A community of young artists and their mentors
Description
The Byng Arts Mini School, established in 1999, is for above average students whose energies and passions are dedicated to the Fine Arts. Successful applicants will be curious and self-motivated, with a demonstrated record of strong academic achievement.
As a school-within-a-school, Byng Arts, has all the benefits of a large high-school, while also maintaining a stong sense of community. Byng Arts students specialize in one of the following areas: Band, Choir, Drama, Media Arts, Strings, or Visual Arts (further opportunities are available in Literary Arts in Grade 11 and 12), and attend several of their academic classes (including English and Social Studies)together as a cohort of motivated learners.
In addition to an enriched curriculum, all students in Byng Arts participate in events that feature community artists, musicians and performers, thereby strengthening the collaboration between Byng and the professional arts community.