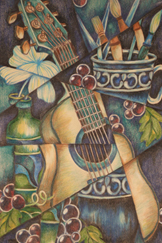 Byng Arts
A community of young artists and their mentors
Questions
General
Application
Selection
After the offers
Frequently Asked Questions
3) What problems have Byng Arts students encountered?
A common problem has been poor academic performance. A student who is just above average in Grade 7 may have difficulty in a Grade 8 subject. Deteriorating work habits may also cause problems in Grade 8.
We would monitor the student's progress very carefully and encourage him/her to work hard and improve. If the student does not, we will put the student on academic probation.
If the student is still doing poorly, we will ask the student to withdraw from Byng Arts. If the students is cross-boundary, then he or she is required to return to the home school.
It has been our experience that students with excellent work ethics will be successful. That is why we rely heavily on your past work habits as part of our selection process.